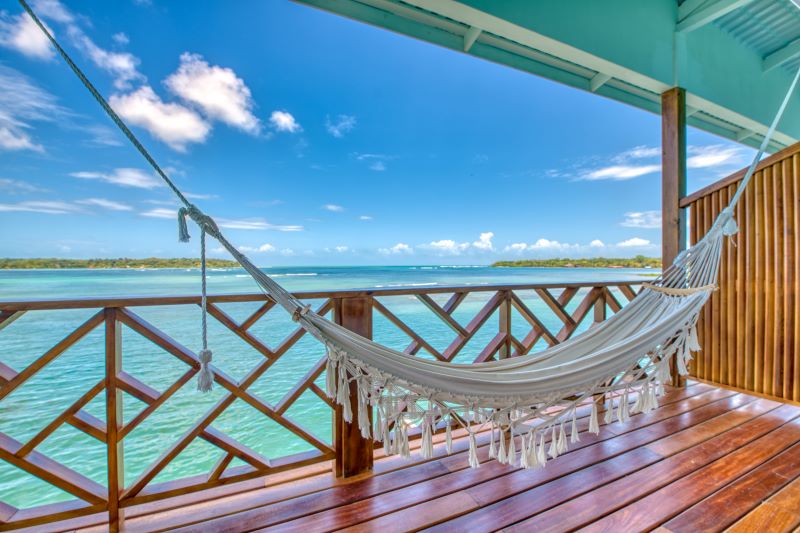 Our journey begins with a short 1-hour flight from Panama City to Isla Colón, Bocas del Toro.
All boat activities depart from the hotel dock.
You can enjoy nearby locations such as bars, restaurants, and, above all, the crystal-clear waters of the Panamanian Caribbean.
Getting around the island is easy; taxis charge $1 or $2 per person depending on your destination.
Itinerary
In this package, you will explore some of the most incredible places in Bocas del Toro: Red Frog, Playa Estrella, Bocas del Drago, the Bay of Dolphins, Cayo Coral, and Cayo Zapatilla.
Day 1
Flight from Albrook Airport (PAC), Panama City, to Bocas del Toro (BOC)
Check-in: 10:00 AM
Departure: 11 AM
Duration: 1 hour
Tour to Red Frog Beach
Departure: 2:00 PM
Duration: 3 hours
Includes: Red Frog entry ticket and guide
Not included: Lunch at El Restaurante Palmar ($15 – $25 per person)
---
Day 2
Tour to Isla Pajaros, Bocas del Draco, and Playa Estrella
Departure: 9:30 AM
Duration: 3 hours
Includes: bottled water and snorkeling equipment
Not included: Lunch at Restaurante Yarisnoris ($15 – $25 per person)
---
Day 3
Tour to the Bay of Dolphins, Cayo Coral, and Cayo Zapatilla
Departure: 9:30 AM
Duration: 6 hours
Includes: water and snorkeling equipment
Not included: Lunch at Cayo Coral Restaurant ($15 – $25 per person)
---
Day 4
Flight from Bocas del Toro (BOC) to Albrook Airport (PAC), Panama City
Check-in: 12:30 PM
Departure: 1:30 PM
Duration: 1 hour
---
Included:
1 daily boat tour for each night of lodging
Not Included:
Terms & Conditions:
---
---
Booking Details:
---