In this guide you will know:
The best dates
The destinations of the most reported sightings
Details about tours and packages
Whale Watching Season in Panama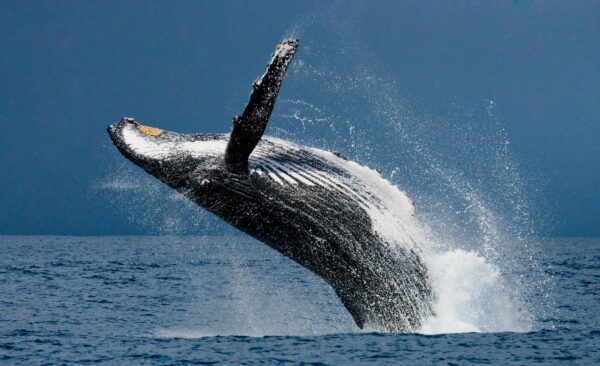 We can observe these beautiful humpback whales in Panama between June and October.
They travel to Panama in large family groups in search of warmer waters ( up to 25,000 kilometers annually).
In Panama, the average water temperature is 28 ° (lowest 24 ° | highest 32 °).
In the whale watching tours in Panama we can observe them performing their courtship rituals such as jumping and singing.
These giant mammals take advantage of the abundance of fish from the coasts of Panama to hunt in groups, cornered and devoured hundreds of prey in each maneuver.
Humpback whales usually live in almost all oceans of the world.
They are giant, in fact the young come to measure between 4 to 5 meters long and adults between 12 to 15 meters.
The song that these whales emit can be heard up to about 30 km away.
The Best Places for Whale Watching in Panama
Whale watching in the Bay of Panama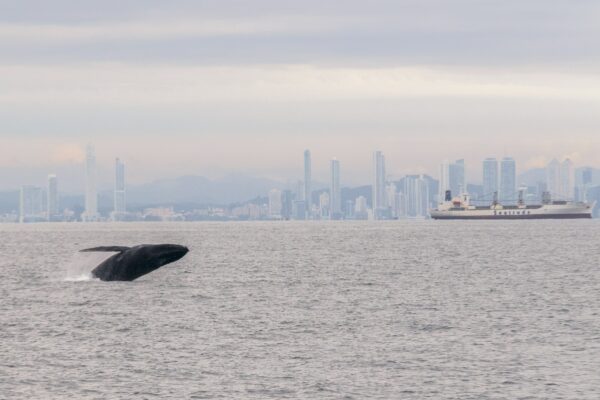 Located just in front of Panama City, the capital of the country, a cosmopolitan city next to the Panama Canal.
Remember, this channel is the most important maritime route in the world.
The whales can be observed in the bay, and in some occasions from the same city.
The most common and practical point to see the whales is from the Coastal Belt.
And how do you know there are whales in the bay?
Well, using social networks (#ballenaspanama and #whalespanama)
The coastal strip is not the most interesting place to observe whales, but it is the only one you can visit without paying.
Now, if you plan to stay near the Bay of Panama we recommend:
Radisson Hotel Panama Canal
Hotel located at the mouth of the Panama Canal, Causeway, Amador.
You can get to the city center in just 5 minutes.
From $ 85 a night
Phone: + (507) 211-4500
Book a room at Radisson Hotel Panama Canal
The Casa Panama Hotel
This hotel is located in the Casco Viejo area.
It is the hotel in the area of ​​best price quality.
Its modern and well-maintained rooms.
Address: Casco Antiguo, Avenida Eloy Alfaro and Calle 11, Panamá
Hey! .. This is a good place if you like to enjoy the nightlife in the city.
From $ 72 a night
Phone: + (507) 303-0992
Whale Watching at the Pearl Islands
For this destination we recommend whale watching starting on a comfortable catamaran every Saturday and Sunday from Panama City, in a 10 hour tour, a light breakfast, lunch and soft drinks such as sodas are included.
We will make a walk from the Bay to the archipelago and then back, to observe this beautiful Natural spectacle.
On this whale-watching tour, a stopover is made in Contadora Island so you can swim on the beach.
Whale Watching in Contadora Island
Beautiful island with white sand beaches and green and turquoise waters.
It is part of the archipelago of pearls, located in the Pacific Ocean.
Its most popular beaches are Playa Larga, Playa las Suecas, Playa Cacique, Ejecutivo and Playa Galeón.
Of the activities offered by this beautiful island we have Whale Watching, Bird Watching, Flora Observation, Sport Fishing, Sun and Beach, Sea Turtles, Water Sports (Diving, Snorkeling, Paddle) Gastronomy, Crafts, Bicycles, and Golf Carts.
We can find private whale watching tours staring at $75 per person.
If you decide to stay in Isla Contadora, we leave you some recommendations here that can serve as a guide for your experience.
Hotel Mar y Oro
The only ocean front hotel of all Contadora Island
Located in Cacique Beach.
They offer breakfast, transfer to the airport and free wifi.
Telephone + (507) 202-7426
First-class care from $ 165 per night
At a cost of $ 70 to $ 90 we can reserve a golf cart for the day on the island.
More about Contadora:
Whale Watching in Coiba
Also known as Coiba National Park, declared by UNESCO as a World Heritage Site thanks to its biodiversity and the amount of fish that reside in it.
Coiba is the number 1 destination of sport fishing in Panama.
Think about the number and size of the fish you have seen and duplicate it, this will give you an idea of the promise that is to dive in Isla Coiba!
Since 2020 Coiba Fishing has a new Catamaran Bali 4.3 in Coiba. This catamaran can be the perfect luxury cruise for whale watching.
To get to Coiba can be by car or with a direct private flight from Panama City.
More about Coiba:
Whale watching in Pedasí and Playa Venao
Pedasi is a charming colonial town, which little by little has become one of the most promising tourist destinations in Panama.
Despite being small, Pedasí offers many activities and beautiful beaches.
You will find different types of excursions such as trips to the Isla Iguana wildlife sanctuary, which is located near the coast or Azurero 34 km from Playa Venado where we get local cuisine, and water sports.
A fantastic destination to visit if you come to Panama.
Venao Beach instead a perfect tropical place to surf and fish, among other activities that involve water sports.
It also offers an excellent location for whale watching.
Without a doubt … your next holiday destination should be Playa Venao.